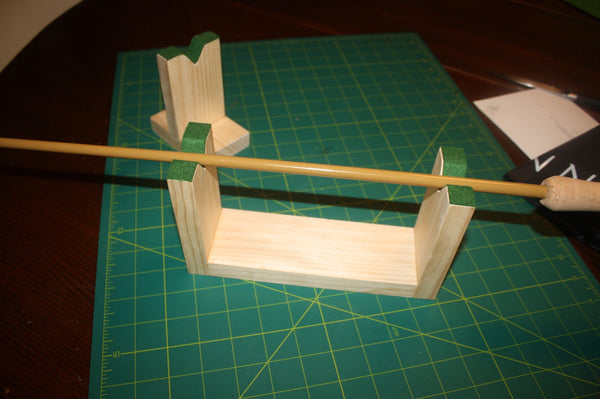 sig jig from Proof Fly Fishing on Vimeo.
Twenty-three bucks and a book is all you need to wrap rods!  Do a quick google search for "rod wrapping jig" and you will see all manner of contraptions that all do the same thing: They cradle a blank while you wrap guides.   
The "Sig jig" is built on the principle that your equipment shouldn't get in the way of the experience.  Made from select northern pine the "Sig jig" utilizes straight forward Scandinavian design principles that strip down to the essentials.  No springs, sewing machine parts, sliding trays, or motors.  Just a simple cradle to support your blank while you wrap guides.  Add a book for tension and you have everything you need to build a world class rod.    
Kit contains:
base and two support arms 
nails (holes are all pre-drilled)
outrigger and support
adhesive backed felt to protect your blank
The "Sig jig" comes fully prepared for assembly.  It takes literally 2 min. to assemble and all you need is a hammer and a bit of glue.