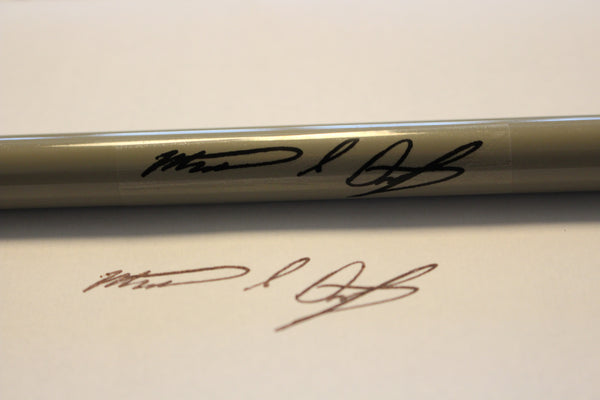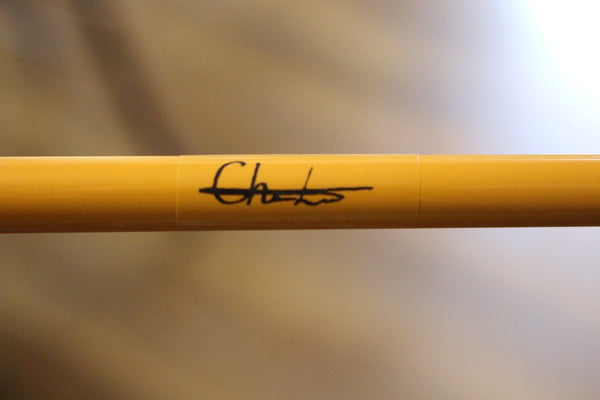 Signing a rod is an important but daunting task.  Ink runs and sometimes bleeds when used with finish, paint is hard to get to flow right, and writing on a curved surface presents its own unique challenges.  We have been working on a way to take your handwritten signature and transform it to an easy to apply label.  You can check out our video here to see the process or follow the steps below:
Each label comes complete with transfer film to make aligning and applying the label a simple process.  
Steps:
1. Take a piece of white (no lines) paper and fold it in half.  Folding it ensures a nice clean background for the label.  
2. Using a medium to heavy tip pen (I like the Bic "Atlantis" BOLD) write out your signature on the paper.  We have 1/2" labels for single lines and 3/4" labels for two lines of text.  (we have silver and gold labels in the 1/2") If you would to change the ink color please include a note when you email the signature.  
3. Take out your cell phone and snap a picture of the signature (up close is best).
4. Email the picture to: proofflyfishing@gmail.com with your order number in the subject line.  
5. We will take it from here.  We will crop, edit, and print your label and include it with your order.