Sig jig rod dryer with Fuji chuck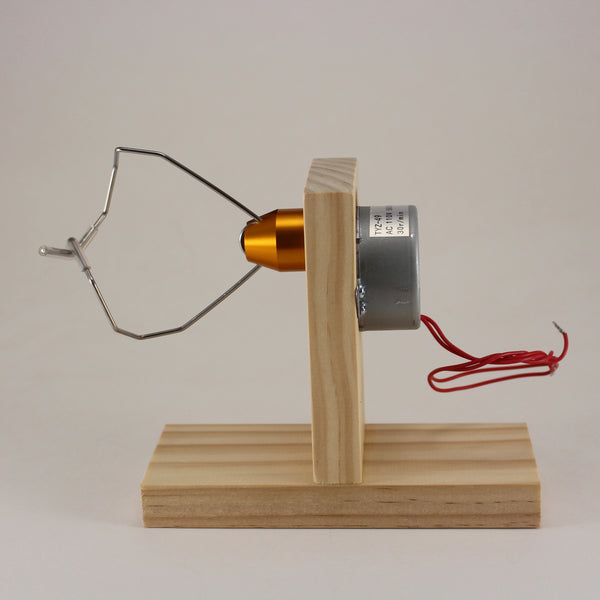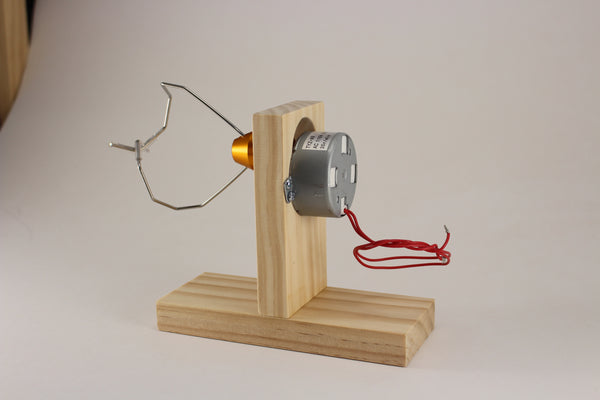 Given the popularity of the Sig jig we now offer a compatible rod dryer fitted with a Fuji chuck. The rod dryer, when assembled matches up with the supports of the Sig jig so you can use the Sig jig to hold the far end of the rod while the turner rotates the blank.  Please note: The dryer comes complete with the motor, Fuji chuck, and supports.  You need to supply an extension cord to connect to 110v. service. Cords with loose ends can be found at: Lowes or Home Depot.  
Kit contains:
Base with pre-drilled holes
Upper motor support with center hole and pre-drilled motor mount holes 
30 RPM rod turning motor with wire leads
Nails, screws for motor, and wire connectors 
*All you need to supply is an extension cord (with the ends cut) and a bit of glue
Assembly steps:
1. Insert the two nails into the pre-drilled holes on the bottom of the support
2. apply a small amount of glue to the base of the motor mount support
3. line up the sharp end of the nails with the center of the motor mount base
4. pound the nails in to clamp the two pieces together (forming a "T" shape)
5. connect the orange part of the Fuji chuck to the motor with set screw
6. align the motor mount holes with the pre-drilled holes on the upper support. 
7. Screw the motor mount to the support using provide screws
8. Finish assembling the Fuji chuck with provided instructions
9. connect the motor leads to an extension cork with provided wire connectors
10. Before use, be sure and tape down the rod turner to a hard surface before using.  I like to use 2" painters tape.